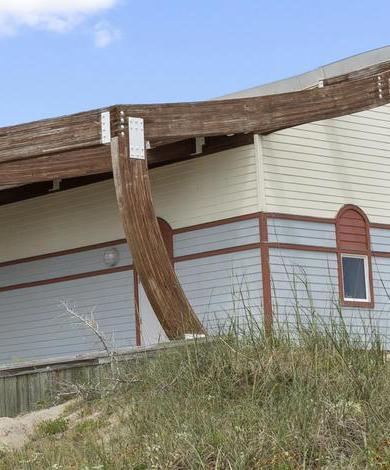 Graveyard of the Atlantic Museum
What to Know about the Graveyard of the Atlantic Museum
The waters off North Carolina's Outer Banks are a popular destination for adventurers looking to fish, kayak, and parasail. But, the pristine coastline also has a darker past that has given our waters the title "Graveyard of the Atlantic." This name is attributed to the high number of ships that have met their watery graves here over the centuries.
The Graveyard of the Atlantic Museum in Hatteras, NC, allows you to learn about this unique maritime history. Take your time exploring the variety of exhibits with everything from artifacts to educational displays that portray the rich maritime history of the Outer Banks spanning 400 years!
Graveyard of the Atlantic General Information
Located next to the Hatteras Village ferry docks, the museum is open Monday through Saturday from 10 a.m. to 4 p.m. The museum is free to all visitors, but donations are accepted and go towards expansion and exhibits.
The museum, in itself, is an architectural attraction, and visitors find it hard to miss. In fact, the innovative design of the building uses the ship's curves and timber elements to evoke the spirit of historic seafaring vessels. Discover the rich history of the North Carolina coast at this Hatteras Island museum.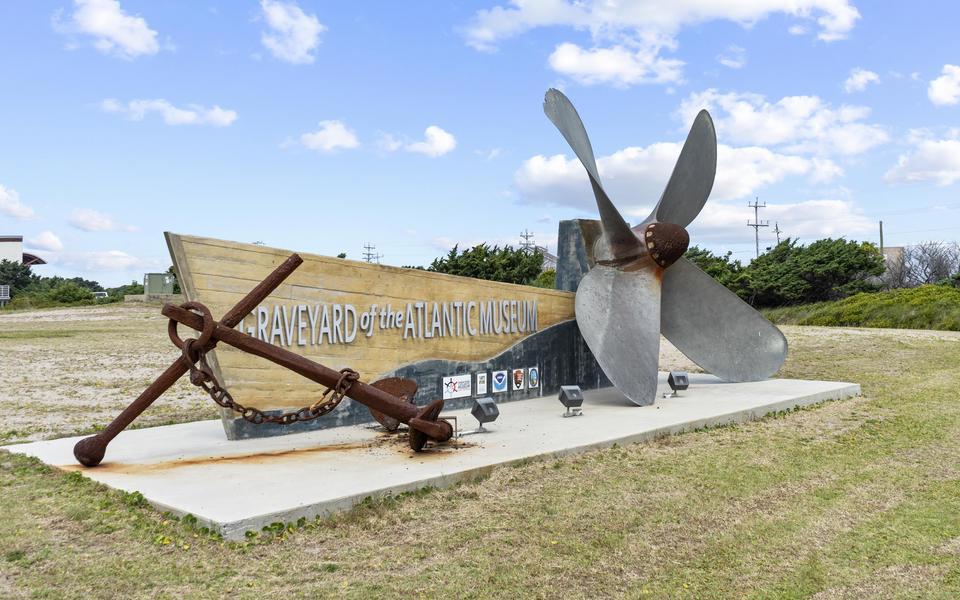 Outer Banks Museum Exhibits & Activities
Found at the southern tip of Hatteras Island, the Outer Banks' newest museum is one of the most enjoyable Hatteras Island activities you'll experience on your trip here. The Graveyard of the Atlantic Museum pays homage to the maritime history and folklore of the Outer Banks shipwrecks, ghost stories, lightkeepers, and innovators. Its exhibits explore the dangerous waters that led to hundreds of shipwrecks off Buxton's treacherous Diamond Shoals and tell the tales of heroes who thrived along North Carolina's Outer Banks.
During your visit, you can view the Cape Hatteras Lighthouse's original Fresnel lens and artifacts dredged from underwater shipwrecks that remain in the Atlantic Ocean. This attraction also teaches you about local historical figures.
This Outer Banks museum hosts speakers throughout the year, recanting lost shipwreck stories and bringing a bit of Outer Banks' history to life. Stroll through the exhibits and end the visit at the gift shop, where you can find coastal treasures, nautical gifts, or educational souvenirs to mark the day!
Centrally-Located Hatteras Island Vacation Homes
After learning about maritime history at the shipwreck museum, end the day wandering Hatteras Village. This small town maintains its historic charm and celebrates its maritime history at every turn. The museum offers close proximity to the beach, the ferry docks, Hatteras Landing shops, and restaurants.
Bring your sense of adventure and love of nautical tales, and set aside some time during your Outer Banks vacation to visit Hatteras Island's Graveyard of the Atlantic Museum. Don't forget to contact us today about our incredible vacation rental homes at Surf or Sound Realty!