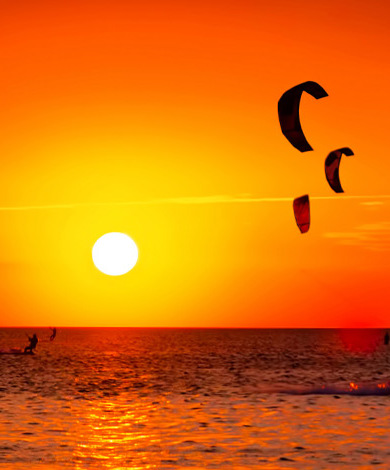 Kiteboarding
Go Kiteboarding on Hatteras Island
Ever since kiteboarding surfaced in the Outer Banks, it has taken Hatteras Island by storm. This growing, high-energy sport attracts thousands of kiteboarders to the Pamlico Sound and Atlantic Ocean every year. With gear and equipment in tow, these visitors can often drive right onto the beach or sound, set up their kites, and launch into some of the East Coast's best wind and water conditions.
Spring and fall attract the largest number of kiteboarders, thanks to the seasons' ideal wind conditions. Spring, in particular, is known for warm southeast winds. The geographic layout of the island creates a rare opportunity for downwinders.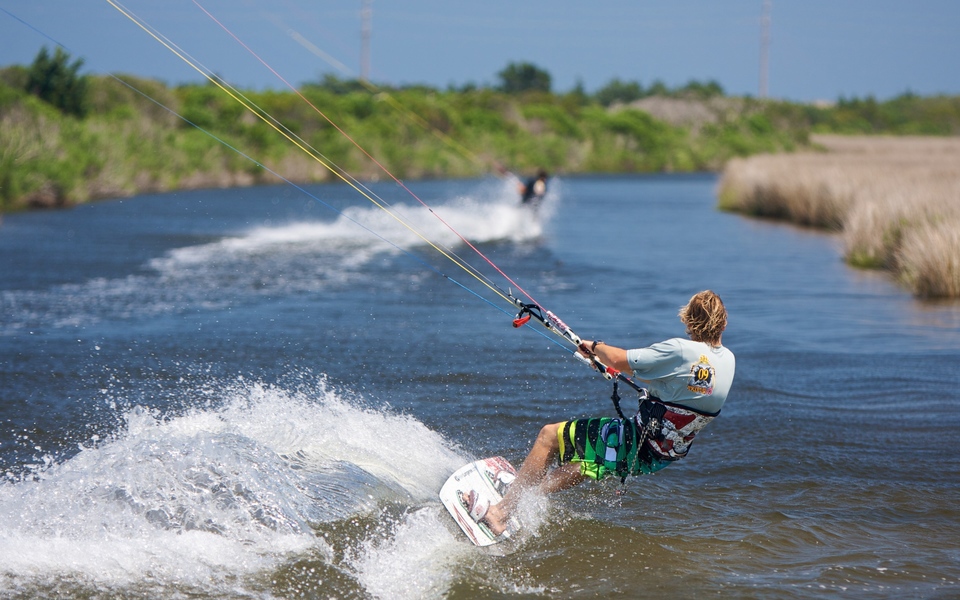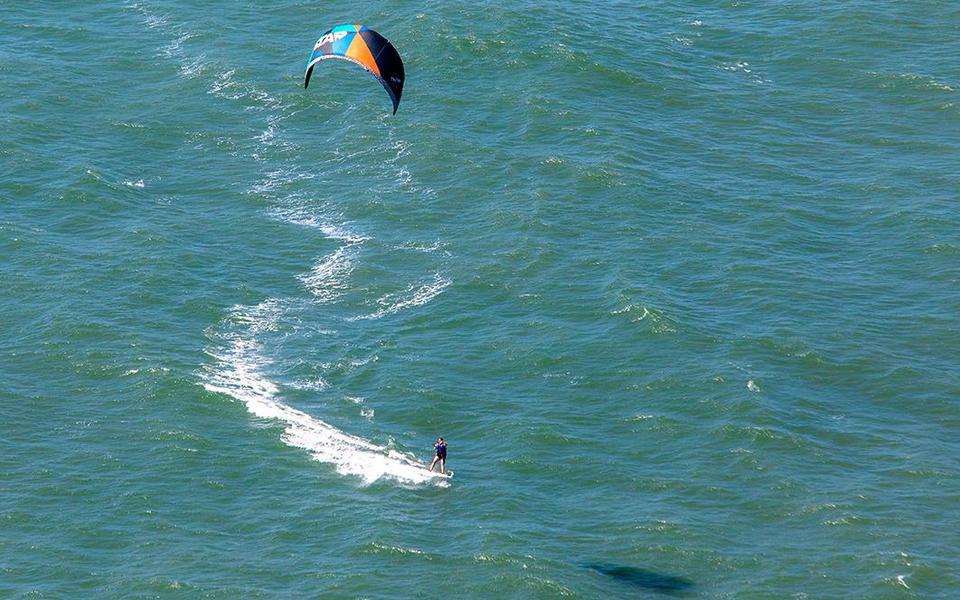 Kiteboarding Launches on Hatteras Island
With its range of water conditions that create miles of open water as a playground, Hatteras Island is a top vacation destination for kiteboarders of all skill levels.
Located between Avon and Buxton, Canadian Hole, once known as the most popular windsurfing spot in the United States, is also known as the Haulover Day Use Area, and has a public soundside beach with plenty of parking and bathhouses. Another excellent option is the Salvo Day Use Area, with a picnic and parking area on the southern border of Salvo. These kiteboarding areas offer wide sandy beaches for rigging and shallow Pamlico Sound waters.
Also known as "The Cove," Kite Point is a sandy beach a quarter to a half-mile south of the Canadian Hole, accessible by walking or 4WD with a beach driving permit required. Credited as being the birthplace of kiteboarding on Hatteras Island, this spot is a veritable oasis for kiteboarders from around the world. Just a hundred yards to the east is the Atlantic Ocean, which can be a challenging platform for advanced kiteboarders to practice their skills. 
Another popular kiteboarding launch site is Sandy Bay Day Use Area in Frisco. This access point features a parking area and a wide sandy beach, convenient for rigging. 
There are numerous soundside launches throughout the seashore, and some are marked by a path off NC-12. Many Surf or Sound Realty rental homes offer great launch opportunities for kiteboarding vacationers. When searching our inventory, look for a soundfront home with a sandy beach or a semi-soundfront or soundside home near a public sound access.
Hatteras Island Kiteboarding Lessons
Several nationally known kiteboarding outfitters on Hatteras Island include:
See for yourself why kiteboarding is taking off on Hatteras Island by hitting the water of the Pamlico Sound, maneuvering through the breakers of the Atlantic, or launching from your own backyard at a soundfront rental home.