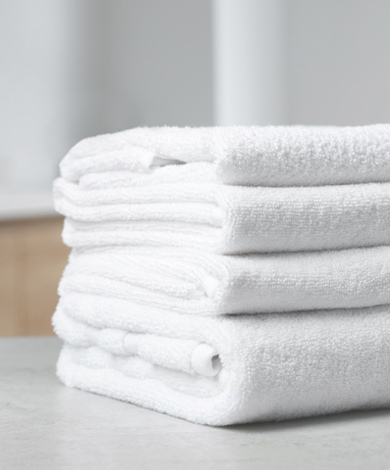 Linens FAQs
Frequently Asked Questions
What is the pricing for my order?
The pricing is based on the entire duration of your vacation stay. If your stay is less than one week, the one-week rental rate will apply. For stays longer than one week, the one-week rental rate is charged only once. Linen items will not be replaced during your stay.
What linen options are available for my vacation?
We offer four linen packages:
Premium, Deluxe and Basic packages are unique to the number of bedrooms and bathrooms of your selected home. Customize your own linen service to fit your vacation needs with our custom package.
Premium Package: Includes bed sheets with beds made, bath towels, hand towels, washcloths, bathmats, kitchen towels, and beach towels.
Deluxe Package: Includes bed sheets with beds made, bath towels, hand towels, and washcloths.
Basic Package: Includes bed sheets without beds made, bath towels, hand towels, and washcloths.
Custom Package: Tailor your own linen service to match your vacation needs.
Can linens be requested during my stay?
Yes. Linens can be requested during your stay and will be billed at the published weekly rate, along with a $25.00 handling fee. Linen orders may be placed through your online account during your stay. Please note that only debit or credit card payments will be accepted for linen orders.
When should I order linens for my vacation rental home stay?
You can order linens for your stay anytime between the day you make your reservation and your check-out date. To make things convenient, we recommend placing your linen order during the booking process itself. However, if you prefer, you can also add your linen order through your online account after your reservation has been confirmed. If your reservation is already paid in full, the cost of the linen order plus tax and travel insurance, if applicable, will be charged to the payment method you have on file.
Is there a deadline for ordering linens before check-in?
No strict deadline exists, as you have the flexibility to order linens from the moment you reserve your vacation rental home until your departure date. For the most streamlined experience, consider placing your linen order while you're making your booking. If you find yourself within 30 days of your check-in date, please note that only debit or credit card payments will be accepted for linen orders during this period.
Will I receive additional linens for a multi-week stay?
For stays between May 19 and August 30, 2024, we provide one bed linen set including a top sheet, a fitted bottom sheet, and pillowcase(s) with beds made to match the bedding types for your selected home and towel sets (bath towel, hand towel and wash cloth) to match the occupancy of bedding for your entire stay. If you need additional linens during your stay, you can easily order them during the reservation process or through your online account. Fresh linens will be provided upon your arrival to ensure your comfort.
Where will my linen order be delivered?
Your linen order will be directly delivered to your vacation rental home on your day of arrival. There is no minimum order requirement. Linens will be neatly placed in a black plastic tote(s) located in the carport area by the lowest entry level door.
What if I do not receive my order when I arrive?
If your rental items are not at your vacation rental home at the time of your arrival, please email linens@surforsound.com with your home name and number to check on the status. Late deliveries do not qualify for refunds.
Where do I place the linens upon departure?
Upon departure, kindly remove all rented linens and towels from the house. Place them in the black plastic tote(s) they were delivered in and leave the tote(s) under the home. Please avoid removing items that belong to the house, like blankets, pillow covers, and mattress protectors.
Do I need to launder any rented linens?
No need to worry about laundering the rented items. We'll professionally clean after use.
Will I receive a refund if I cancel a linen order?
There is a $25 plus tax cancellation fee that will be charged for each linen order.
The refund amount varies based on vacation options selected.
All monies paid for a Linen order (less $25 cancellation fee, credit/debit card fees and applicable taxes).
Will I get a refund for unused linens?
No, refunds are not issued for linens that remain unused during your stay.
What if I lose or damage items?
All linens and towels are used at your risk. You are responsible for their use. Any lost or damaged items will be charged to you as the lessee.
If you have any additional questions, please don't hesitate to reach out to us. Your comfort and satisfaction are our top priorities.