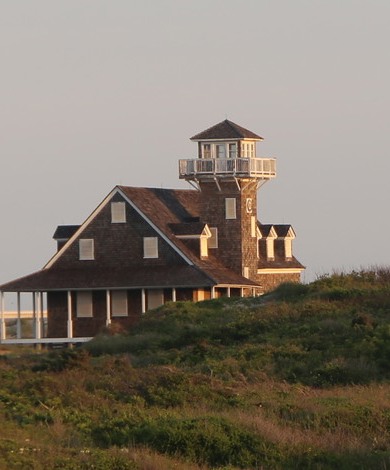 Pea Island National Wildlife Refuge
Get Outdoors at Pea Island National Wildlife Refuge
The Outer Banks of North Carolina have long attracted tourists looking to relax on the beach and explore the great outdoors. Home to vital North Carolina wildlife refuges, the landscapes range from sandy beaches to marshes. On the north end of Hatteras Island, you will find the 5,000-acre Pea Island National Wildlife Refuge. This refuge provides essential habitats for migratory birds and offers many ways for visitors to explore the island. Whether you are interested in birdwatching, hiking, fishing, or kayaking, you can find it all at Pea Island National Wildlife Refuge.
Pea Island National Wildlife Refuge General Information
The Pea Island Visitor's Center is open year-round, but hours vary depending on the time of year. Friendly volunteers are available to provide refuge and wildlife information, such as a list of birds that flock to the area. This is also the spot to go to if you want to sign up for one of the refuge's seasonal programs, including guided bird walks, canoe tours, turtle talks, and hands-on explorations of the Pamlico Sound and the Atlantic Ocean.
Pea Island Quick Facts
Established in 1938, the refuge includes an ocean beach, dunes, upland, fresh and brackish water ponds, salt flats, and salt marsh.
The sanctuary is approximately 13 miles long, encompassing 5,834 acres of land and 25,700 acres of boundary waters.
Pea Island is home to more than 365 species of birds, 25 species of mammals, 24 species of reptiles, and five species of amphibians.
Outer Banks Birdwatching
The different types of wildlife found at the refuge are amazing! As a result, birdwatching is a popular activity throughout the year as different species migrate to and from the Outer Banks. Depending on the season, visitors can expect to spot concentrations of ducks, geese, swans, wading birds, shorebirds, raptors, and even a few tropical species of migrating birds.
Since its establishment in 1938, the refuge has become a must-visit attraction for photographers and Outer Banks visitors hoping to catch that postcard-worthy picture of a rare white pelican, a great blue heron, or just a gaggle of Canadian Geese. Even if you don't stop your car to explore the refuge, you can enjoy the miles of scenery and birds from your car window.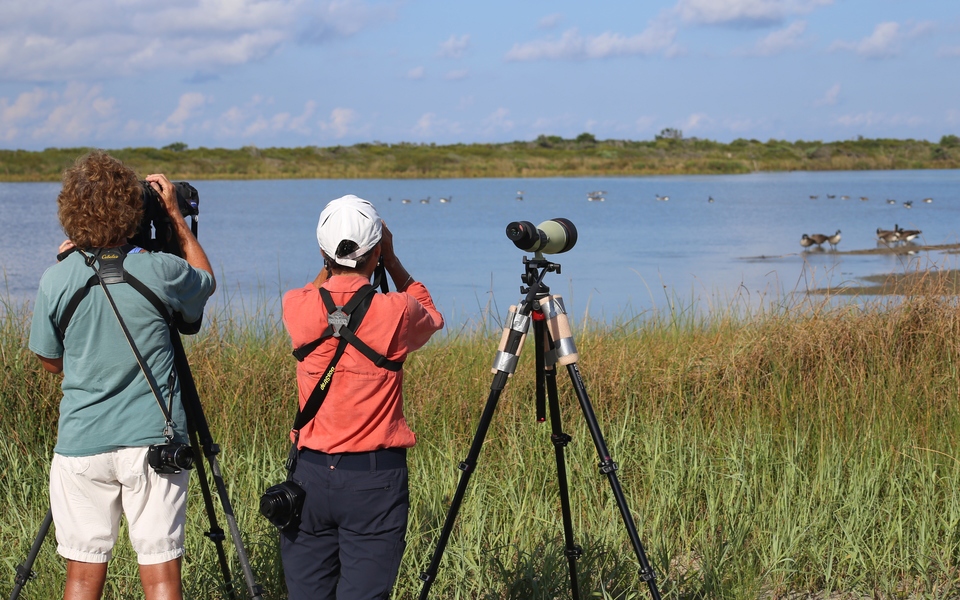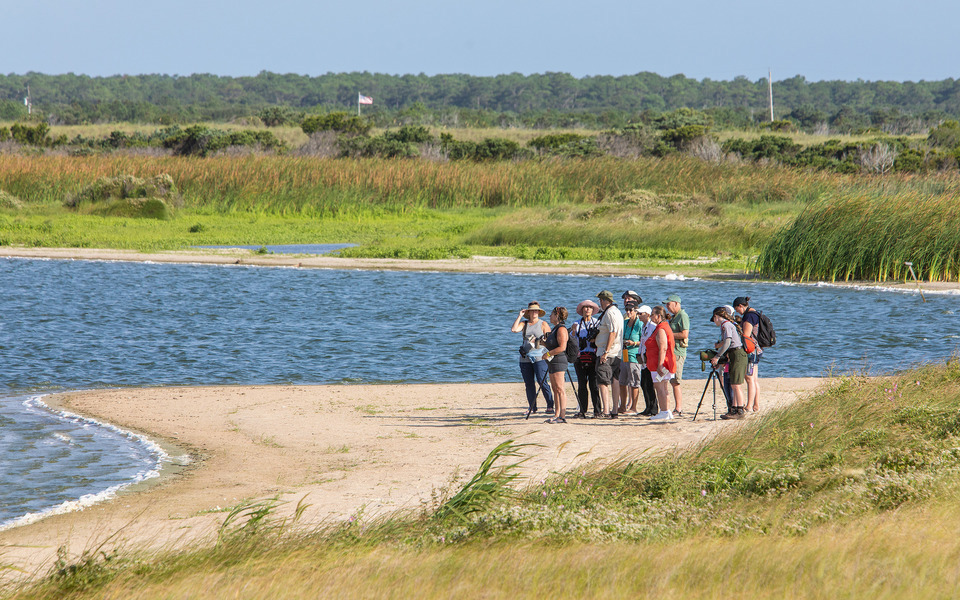 Wildlife Trails
Pea Island is made up of several ecosystems, including ponds, maritime forest, marshy areas, and beaches. Not only does this diverse landscape attract a wide range of wildlife, but it also means breathtaking landscapes to explore.
In addition to offering several public parking areas, birdwatching stands, and a photography blind, the Pea Island National Wildlife Refuge also features three wildlife trails. These Hatteras Island hiking trails are open year-round during daylight hours.
The North Pond Wildlife Trail is a roughly half-mile trail that offers spectacular wildlife observation in any season. The route begins at the visitor center, where you will walk over a turtle pond and stop for fantastic views at the observation decks. This is a wheelchair-friendly path.
The Salt Flats Wildlife Trail is a slightly shorter path close to the Oregon Inlet and ends at a breathtaking scenic overlook. Measuring about .15 miles, it is an excellent option for those visiting with younger children.
The North Pond Levee Trail, measuring 2.33 miles, connects the two wildlife trails. This path has a natural surface and can be buggy, so don't forget to bring your bug spray.
Hatteras Island Vacation Rental Homes
There are countless ways to surround yourself with incredible scenery, including on the refuge trails with a top-of-the-line camera and tripod for the best nature photography opportunities in the Outer Banks. Just like Pea Island National Wildlife Refuge is a stunning, natural attraction that is uniquely Hatteras Island, so are the vacation rental homes from Surf or Sound Realty. Relax on your vacation rental home's deck or porch to see if you can spot flocks of birds soaring overhead. Learn more about Hatteras Island outdoor activities by contacting us today!