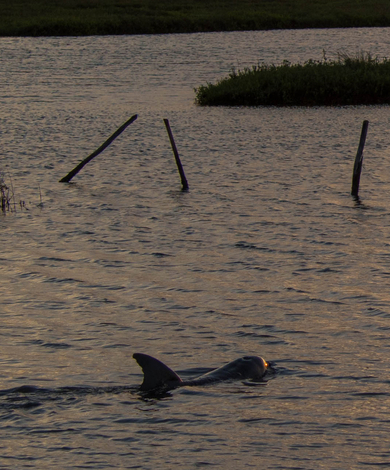 Hatteras Island Dolphin Tours
See If You Can Spot a Dolphin on Outer Banks Tours
Whether sitting on the back deck of your Hatteras Island oceanfront rental home or cruising on a boat, you will discover there is no shortage of ways to spot Hatteras Island's popular residents –  dolphins and porpoises. Often spotted boating along the breakers or off the island's inlets, these creatures are a fun surprise to encounter on your Outer Banks vacation.
When it comes to things to do on Hatteras Island, nothing is more fun and memorable than dolphin tours and watches on the Outer Banks. You may be wondering how to make a dolphin encounter part of your upcoming getaway. While luck does play a role, there are some tips and tricks we can share to help increase your chances of spotting these animals.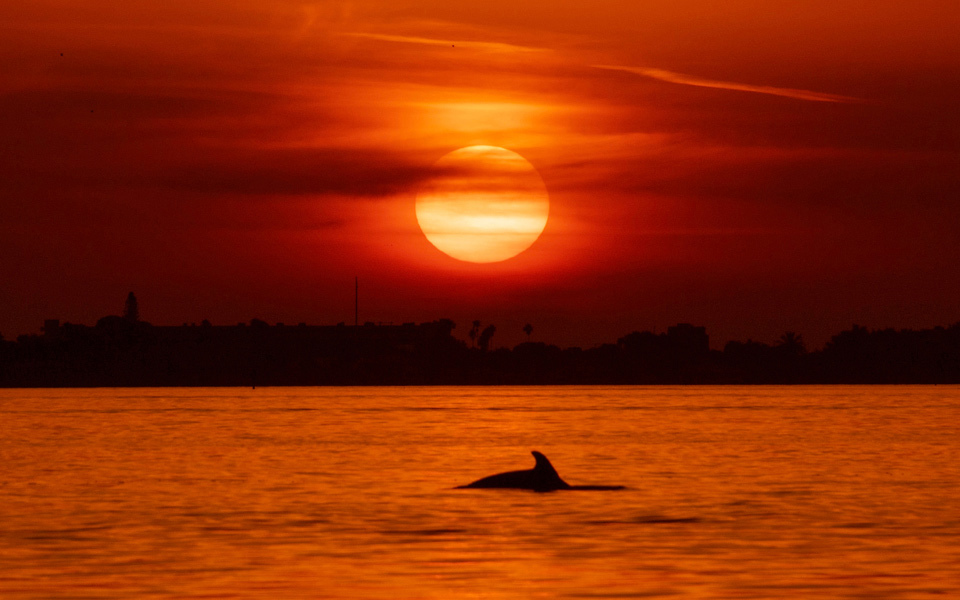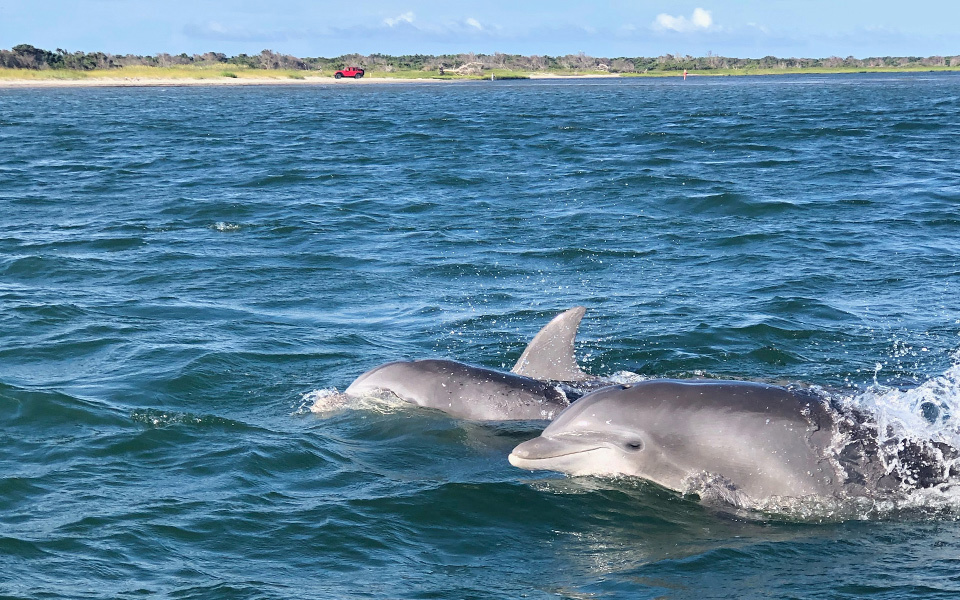 Tips for Spotting Dolphins
Looking for the best tip to spot dolphins during your Hatteras Island vacation?  Keep your eyes on the water! Dolphins and porpoises can quickly emerge from the blue horizon, often for just a couple of seconds. By staying alert and vigilant, you'll greatly increase your chances of catching a glimpse of these magnificent creatures.
Not only do dolphins and porpoises have different characteristics, but they also have different personalities. Porpoises can be aggressive if they feel threatened, while dolphins are generally non-aggressive and are seemingly curious about the other creatures that share their habitat. During inshore Outer Banks dolphin tours, it's common for local dolphins to approach and interact with passengers, circling and cruising around them. However, it's important to keep a safe distance and refrain from touching them.
The best thing you can do when spotting a dolphin is to have your camera ready! Thanks to their friendly behavior, dolphins provide excellent photo opportunities. Capture them frolicking in the water in images you'll look back on for years.
The Best Cape Hatteras Dolphin Tours
These outings will take travelers to the inlets and waters just off Hatteras Island in search of dolphins. Going on one of these tours is a great way to get close to these creatures, which will often bump against the boat as a curious greeting.
Plan a family-friendly outing by reserving your seat on one of these local charters.
Family Water Adventures is known for many aquatic adventures, including eco-tours that help you discover incredible wildlife like dolphins.
Miss Hatteras Fishing is more than a fishing charter. Chase the sunset on the Pamlico Sound as you search for beautiful dolphins on a relaxing cruise.
There are also incredible dolphin tours in other nearby Outer Banks locations. If you are planning a day trip to Manteo, set off on a cruise with Captain Johnny's Dolphin Tours. Nags Head Dolphin Watch departs from two locations near Nags Head, making this activity a great addition to your Nags Head visit.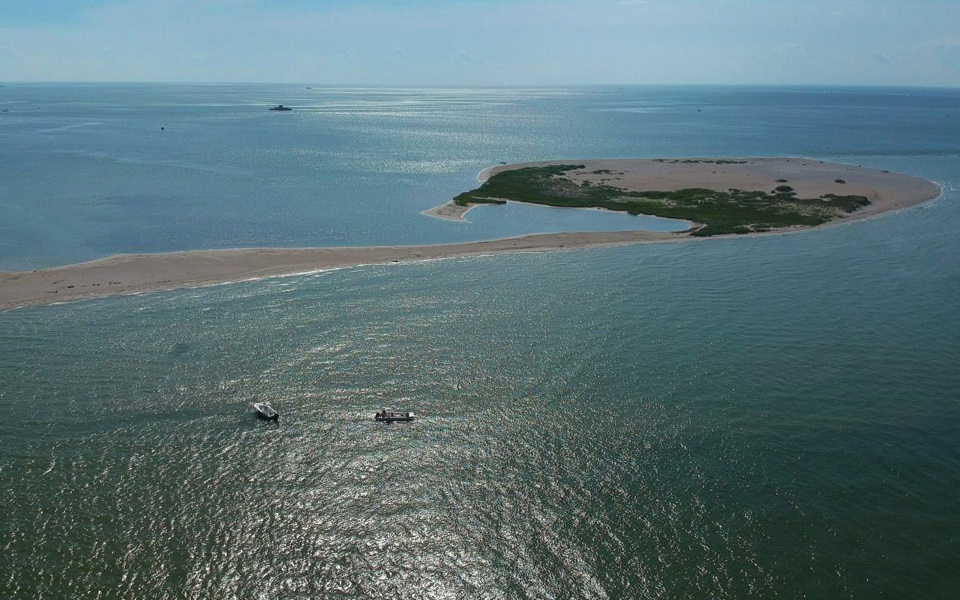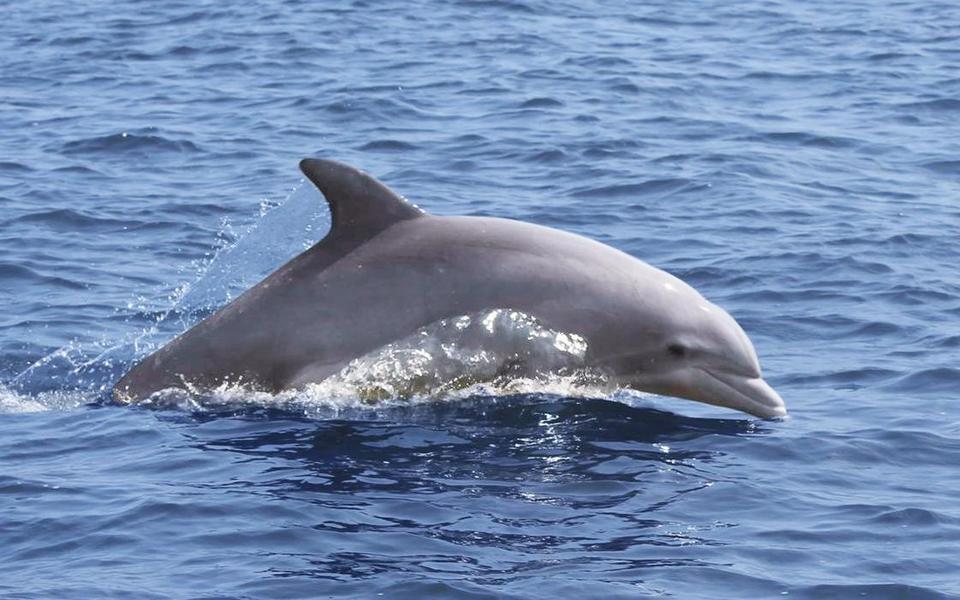 Other Outer Banks Dolphin Watching Opportunities
Book your Outer Banks vacation during the off-season for the best chance to spot dozens of dolphins at once. One of the best surprises of wintertime on Hatteras Island is that the dolphins and porpoises are in full force along the beaches, and it's not unusual to spot six, 10, or even a dozen cruising past the beach in a single speedy pack.
Your chances at spotting dolphins are not limited to just Hatteras Island tours. For an effortless experience, consider renting one of our oceanfront vacation rental homes. On clear days, dolphins are frequently seen just beyond the breakers, particularly in the uncrowded morning and evening hours when feeding activity is at its peak. Enjoy a cup of coffee on the back deck as you keep your eyes on the water to see if you can spot these beautiful creatures. Contact us today to reserve your oceanfront Hatteras Island home!