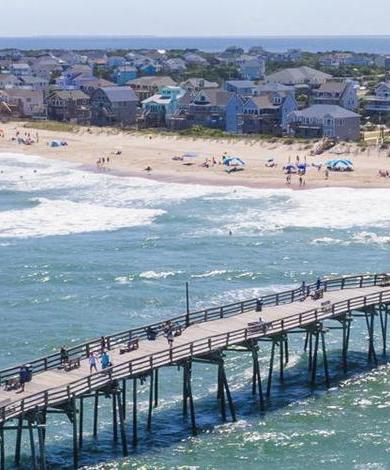 Surf Fishing
Try Surf Fishing on Hatteras Island 
If you are planning on fishing on your Outer Banks getaway, rest assured you do not have to rent a boat to reach prime fishing spots. Pack up your rod and reel and make your way to a sandy Outer Banks beach for some surf fishing. With miles of beaches and intersecting currents, Hatteras Island is known for exceptional surf fishing. Novice and experienced anglers alike can find excellent record-setting catches by casting from the 70 miles of national seashore on Cape Hatteras.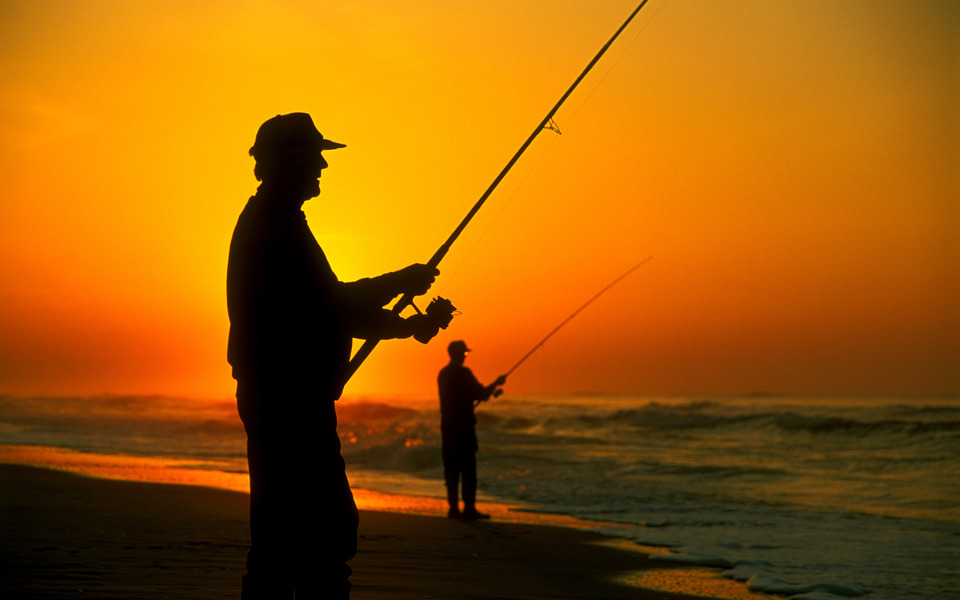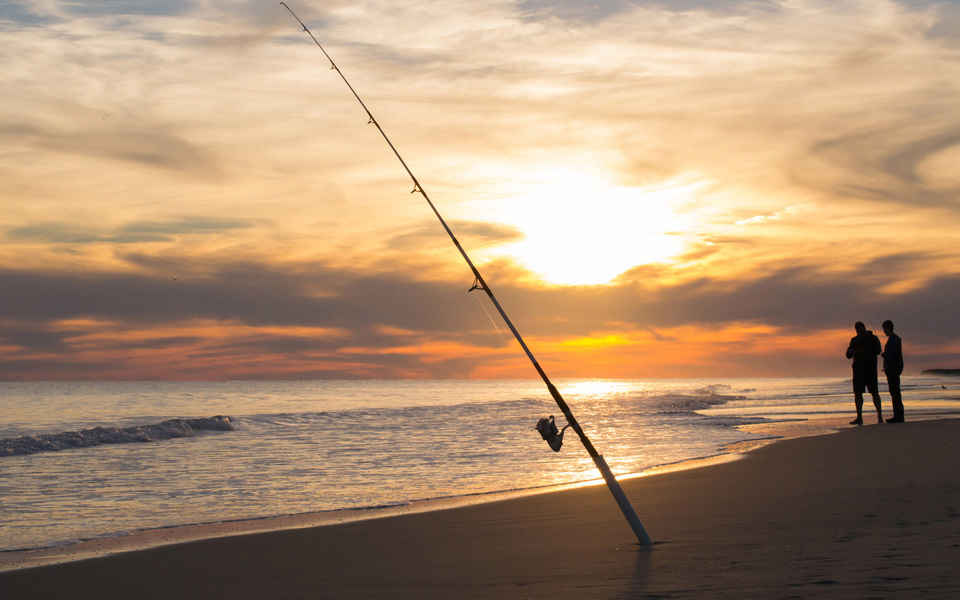 Fishing at Cape Point
At any given point during the year, various migrating game fish are found within surf casting distance from the geographic center of Hatteras Island. During the spring months, it's not uncommon for anglers to catch striped bass, red drum, and sea bass. These species return in the fall, along with king mackerels.
What to Know about Outer Banks Fishing Season
Talk to a local angler, and they will share that fall is prime surf fishing season on Hatteras Island, especially in the peak weeks of October. This is when fattened red drum return and finger mullet run along the coast. You can also find flounder, puppy drum, sea mullets, spots, croakers, black drum, and an occasional sheepshead throughout the fall fishing season.
When casting your line during the summer months, look for prized cobias, amberjacks, pompano, and tasty Spanish mackerels. These species can be found off of these remarkable Outer Banks beaches all summer long, particularly in the early morning and late evening along points and inlets. 
Before setting out on a fishing adventure, a North Carolina Recreation Fishing license is needed. You can obtain one by visiting the Division of Marine Fisheries' website to purchase a fishing license online or stop by a local Outer Banks tackle shop during your stay.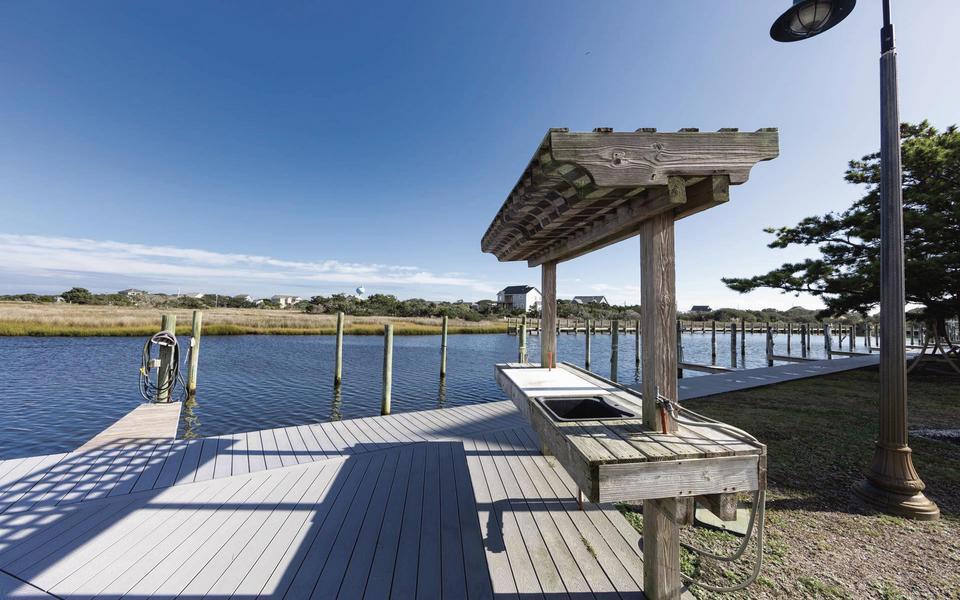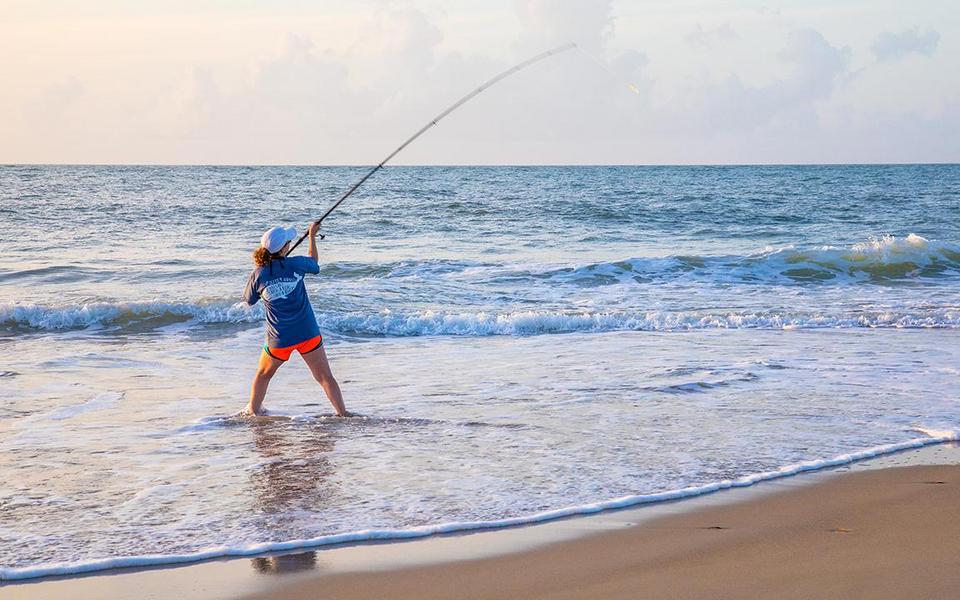 How to Have Your Catch Recognized
If you land a large one during your fishing adventure, stop by a local tackle shop with a weigh station to see if your catch is eligible for a North Carolina Fishing Citation. The North Carolina Division of Marine Fisheries sponsors an open tournament for recreational anglers every year. Those who land or release specific saltwater fish species of a minimum size in the state's coastal waters are eligible for a certificate that classifies their catch as extraordinary. The requirements for this citation are simple.
The fish must be caught on hook and line and landed without electric or hydraulic equipment. 
An authorized weighmaster, usually the proprietor or an employee of the tackle shop where the weigh station is located, must weigh and inspect the fish. 
For catch and release citations, the angler and a witness must fill out an application at an official weigh station. 
After you have filled out the application and it is approved, the citation will be mailed to you.
When you stay at a Surf or Sound vacation rental, world-class surf fishing spots are all around you, including the beach right in your backyard. Other fantastic locations include Cape Point and South Beach in Buxton, Oregon Inlet, Hatteras Inlet, or the calm waters of the Pamlico Sound. No matter where you cast your line, surf fishing on Hatteras Island is nothing less than exceptional. With 70 miles of Cape Hatteras shoreline to choose from and migrating species from all over the world, you have a golden opportunity to land the big one and bring in a North Carolina citation to show off your catch.