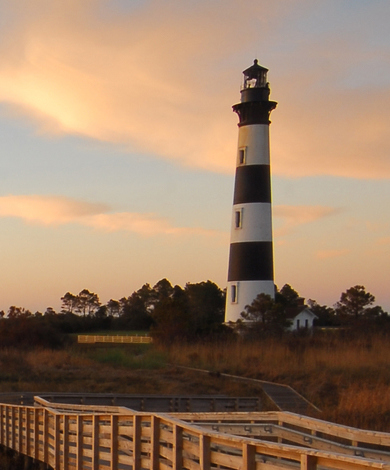 Bodie Island Lighthouse
Interesting Bodie Island Lighthouse Facts and History
The Outer Banks' landscape is dotted with lighthouses up and down its coast, including Bodie Island Lighthouse. First constructed on Pea Island in 1847, the lighthouse was abandoned only 12 years later due to poor foundation.
Rebuilt in 1859, the lighthouse was blown up just two years later during the Civil War by Confederate troops who feared Union forces would use the 80 ft. tall tower. Construction of the 156 ft. tall black and white horizontal-striped lighthouse in its current location on Bodie Island was completed in 1872 with the installation of a first-order Fresnel lens.
Today, the lighthouse stands as another tribute to Hatteras Island's maritime past. Checking out these landmarks is the perfect way to spend a day exploring the area near your Surf or Sound Realty vacation rental home!
Before visiting the lighthouse, learn a few facts about the lighthouse.
Bodie Island is pronounced, "body." Folklore says the origin is due to the number of bodies that washed ashore after shipwrecks in these waters of the "Graveyard of the Atlantic."
The current Bodie Island Lighthouse is the third that has stood in this vicinity.
The lighthouse was re-lit in 2013 after undergoing restoration.
This picturesque lighthouse is commonly photographed at sunset as it is easy to pull onto the shoulder of NC-12 to take a well-timed picture.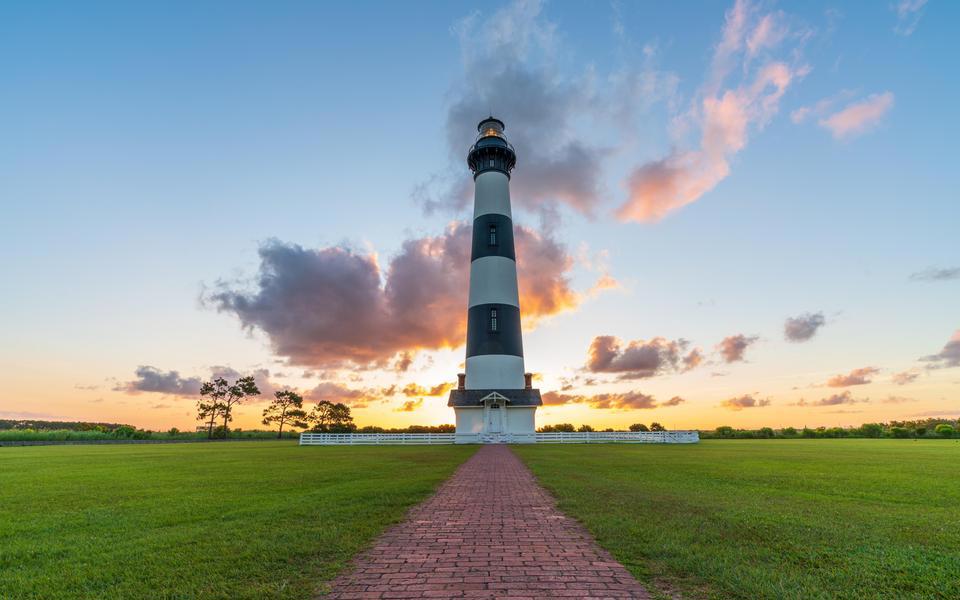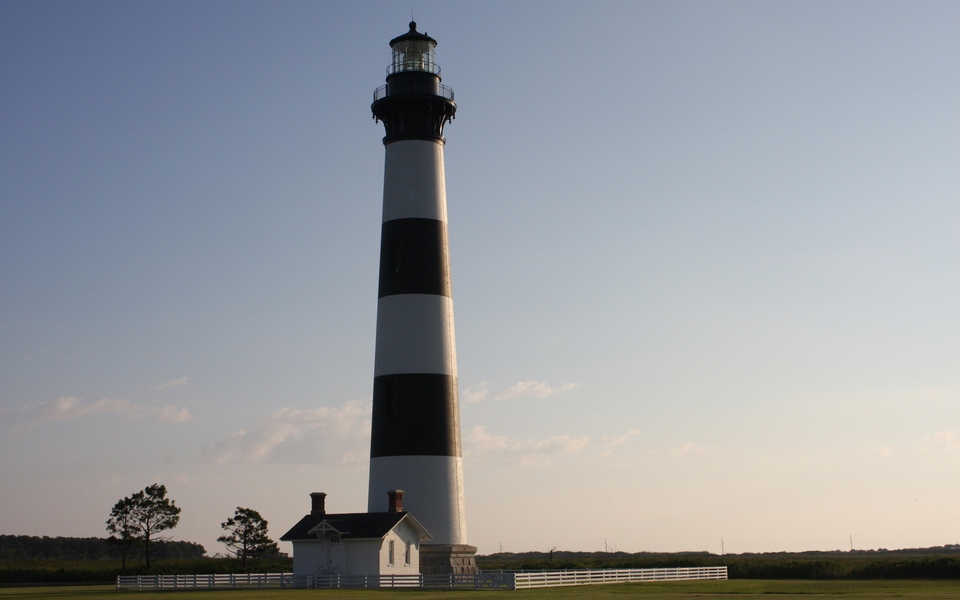 How to Visit Bodie Island Lighthouse
Located at the northern end of Cape Hatteras National Seashore in Nags Head, the National Park Service opens up Bodie Island Lighthouse seasonally for climbing. Climb tickets are available daily on a first-come, first-serve basis. We recommend purchasing your passes while enjoying your morning cup of coffee. These tickets allow you to climb to the top of the lighthouse to enjoy the natural beauty of Bodie Island, the Pamlico Sound, and the Atlantic Ocean.
Before or after your climb, explore the surrounding grounds, which include an Eastern National store and visitor's center in the old keeper's quarters with exhibits. Go on a self-guided exploration of the nature trail that winds through the soundside forests and marshes. The lighthouse and keeper's house are tucked away amidst tall pines and marshland, creating a quiet respite from the busier parts of the beach.
Visiting a lighthouse like Bodie Island Lighthouse is just one of the numerous memorable things to do on the Outer Banks. Contact us today to learn more about the thrilling adventures that await when you visit Hatteras Island.